By Zen Vuong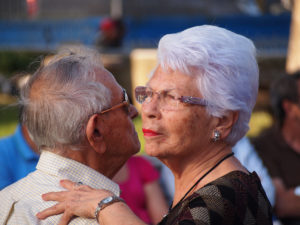 Retain a sharp, healthy brain and reduce your risk of Alzheimer's disease by following five simple rules. Some of the tips are scientifically proven, while others show promise but require further investigation…
4. Connect with others — MAYBE
Relationships are good for the brain and heart. Research is starting to suggest a link between social interaction and improved brain health. Being social builds connections between neurons, said María Aranda, executive director of the USC Edward R. Roybal Institute on Aging.
"Socializing, however, doesn't mean binge watching Netflix with friends. Activities that make your brain work give an added benefit," Aranda said. "Plan a trip with friends, visit museums with your kids, alternate walking or jogging routes with your workout partner or try something new like learning a second language with a co-worker."
Unfortunately, people who have a sparse social calendar or who are socially isolated have eating and nutritional habits that are different from people who are socially connected.
"Cooking a balanced meal for one might sound like a chore, so they may end up snacking on toast and coffee. We know that malnourishment affects brain function," said Aranda, associate professor at the USC Suzanne Dworak-Peck School of Social Work and the USC Leonard Davis School of Gerontology.