By Vincent Lim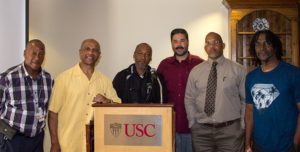 America's aging population is growing rapidly—including in prisons. The number of state and federal prisoners age 55 or older rose 250 percent between 1999 and 2014, according to U.S. Department of Justice data. But prison facilities are not designed to accommodate elders' needs.
"With the natural slowdown of physical mobility and cognitive processes, older prisoners are vulnerable to predation and humiliation," said Anne Katz, a clinical professor at the USC Suzanne Dworak-Peck School of Social Work and its USC Edward R. Roybal Institute on Aging.
Addressing the health needs of older inmates was the subject of a symposium held at USC and hosted by the USC Roybal Institute in partnership with the Los Angeles-based Center for Health Justice.
In helping to mount the conference, Katz said, "I wanted to promote awareness of people aging in prison and highlight existing model programs."
She and co-organizer Aileen Hongo, MSW '13, MAG '07, a life skills instructor at Five Keys Charter School and a USC Roybal Institute research fellow, worked with former prisoners from a unique program at the California Men's Colony, a state prison near San Luis Obispo, California. The "Gold Coats" program offers special training for healthy inmates to care for older inmates with dementia and other cognitive impairments. It was named for the distinctive gold smocks worn by the caregiving prisoners.