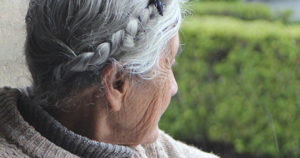 Diagnoses of Alzheimer's disease are rising in tandem with the aging population in the United States, but the disease isn't spreading evenly across racial and ethnic groups, according to a collaborative report from the USC Edward R. Roybal Institute on Aging, the USC Suzanne Dworak-Peck School of Social Work, and UsAgainstAlzheimer's.
In fact, Latinos are 50 percent more likely to develop Alzheimer's than non-Latino whites, but are less likely to pursue treatment for the disease. Instead, they rely on informal care from family and community members, which can lead to poor health outcomes because of low awareness and limited access to medical resources.
María Aranda, executive director and associate professor at the USC Edward R. Roybal Institute, said when she was a medical social worker, she noticed that Latino families affected by dementia were providing hours of informal care with very little knowledge of the disease.
Aranda and the research team at the Roybal Institute found that Latino families are less able to access formal treatment from medical providers and social workers, which leads to more severe cases of dementia as conditions progress. The graphic below illustrates the barriers to care, and how this disparity can cost Latino families significantly more in the long run.