By Vincent Lim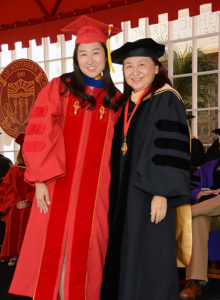 For Yura Lee, PhD '17, her research is informed by her clinical experiences in Korea and in Los Angeles, but the major inspiration for her work was her grandfather who had Alzheimer's disease.
"I had a close relationship with my grandfather who had Alzheimer's disease several years ago," Lee said. "I became one of his primary caregivers in the hospital until the day of his death with my grandmother. Ever since then, I've focused on research on dementia and Alzheimer's prevention for older adults."
Lee completed her PhD in social work from the USC Suzanne Dworak-Peck School of Social Work earlier this year, and she will be a tenure-track assistant professor at the University of Wisconsin-Milwaukee School of Social Welfare this fall.
Lee's mentor is Iris Chi, the Chinese-American Golden Age Association/Frances Wu Chair for the Chinese Elderly at the school and a senior scientist at the USC Edward R. Roybal Institute on Aging.
Chi could relate to Lee's struggle.
"My father suffered from dementia for a couple years, and it was pretty difficult for our family," Chi said.
During her time as a PhD student at USC, Lee co-authored journal articles with Chi on issues such as cognitive health, grand parenting and caregiving.
Chi also helped Lee acclimate to American university life.
"She was a wonderful mentor—not only from an academic research perspective," Lee said. "She supports the emotional needs of international students who come to the United States for the first time to work on their PhD."
Lee was the recipient of the Laurence G. Branch Doctoral Student Research Award from the Aging and Public Health Section of the American Public Health Association. She also received an endowed dissertation fellowship from the USC Graduate School.
"It's not just about academics, we should care about international doctoral students' general well-being and mental health," Chi said. "They have to learn about American culture and the U.S. education system. And they tend to have smaller social networks."
At the University of Wisconsin-Milwaukee, Lee said she wants to focus on intergenerational relationships and develop models that can improve the well-being of both grandparents and their grandchildren. She sees examples of models in countries like Japan and Denmark that could work in the United States.
"My experience with my grandfather motivated me to do this type of research," Lee said.