By Vincent Lim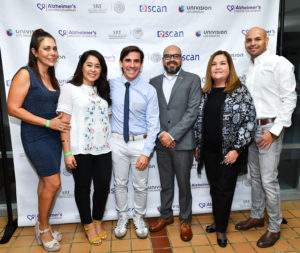 María Aranda, interim executive director of the USC Edward R. Roybal Institute on Aging and associate professor at the USC Suzanne Dworak-Peck School of Social Work, spoke on the expert panel following the performance of El Cuidador (The Caregiver) presented by Alzheimer's Greater Los Angeles (ALZLGA) as part of Hispanic Heritage Month.
"I was excited to be part of this event that raised awareness and knowledge of Alzheimer's disease in an engaging way that Latino families could truly understand," Aranda said.
Moderated by Paula Rosado, a reporter from Univisión, the panel was comprised of academic, community, and industry experts who fielded questions from the audience—many of whom shared the struggles that they faced in their families as Alzheimer's patients or caregivers.
Mexican actor Sergio Ochoa performed the monologue for the debut of his theatrical performance at El Camino College Campus Theater. El Cuidador is about his mother, famed actress Leonorilda Ochoa, and their relationship, after her memory began to decline and she was diagnosed with Alzheimer's disease.
"I have written about the experiences and anecdotes that occurred to me the entire 10 years that I cared for my mother," Ochoa said. "It's like an apapacho (a hug) for people who are burdened by this disease; the patients, their families and caregivers."
Recent research indicates that Latinos are 1.5 times as likely to develop Alzheimer's and other cognitive impairments than whites. At the same time, the Latino community is less likely to be familiar with symptoms and the availability of local resources for patient and caregiver assistance.
"Knowledge of Alzheimer's is low among racial and ethnic minority groups," Aranda said. "Among the limited English-speaking populations, it is even worse."
Aranda was one of the first researchers to develop culturally relevant and appropriate outreach materials and interventions for Latinos with Alzheimer's and their families in the 1980s.
"It's important to the community that the information is culturally relevant," Aranda said. "In producing this performance, they understood that it had to resonate with Latinos."
Family responsibility and stigma sometimes discourage caregivers from seeking external services for loved ones, or counseling and respite for themselves.
ALZGLA provides family counseling in Spanish, a bilingual hotline call center, Hispanic community awareness outreach, and other services at all five of its greater Los Angeles service centers. For over three decades, it has been the only local full-service, dementia-focused, nonprofit serving the Greater Los Angeles and the Inland Empire.
The performance was offered free of charge through the generous sponsorship of Univisión Los Angeles, SCAN Health Plan, First Serenity Hospice and LatinosAgainstAlzheimer's.