By Vincent Lim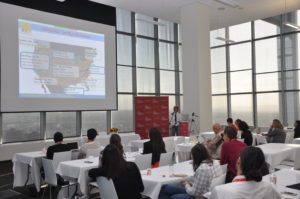 Over 100 attendees from the United States and Latin America—including elected members of the National Academies of Sciences, Engineering, and Medicine—came to USC to participate in what is considered the premier social research conference on Latino health and aging.
At the 2017 International Conference on Aging in the Americas (ICAA), which was hosted by the USC Edward R. Roybal Institute on Aging at the USC Suzanne Dworak-Peck School of Social Work, scholars discussed how the social and built environment affects the health and mental health of aging Latinos.
"We're dedicated to developing new knowledge of Latino aging in the United States and Latin America and to establish leadership in the field," said William Vega, the conference's organizer, executive director of the USC Roybal Institute and elected member of the National Academy of Medicine.
U.S. Census data indicates that Latinos are the nation's largest ethnic/racial minority group and the fast-growing segment of the U.S. older adult population.