By Vincent Lim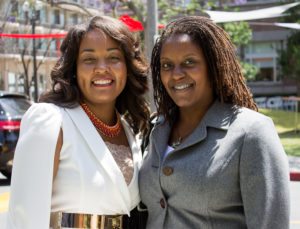 Krystal Hays PhD '17 connected with a mentor who she could only find at USC.
"It was only because of Dr. Karen Lincoln that I applied to USC," said Hays, who will join the faculty at California Baptist University this fall as an assistant professor of social work. "She has an extensive research agenda and is an expert in mental health and health disparities among African Americans and older adult populations."
Lincoln is an associate professor at the USC Suzanne Dworak-Peck School of Social Work and a senior scientist with the school's USC Edward R. Roybal Institute on Aging.
Hays is a Council on Social Work Education Minority Fellow. The program aims to reduce health disparities and improve health care outcomes of racially and ethnically diverse populations by increasing the number of culturally competent behavioral health professionals with doctoral degrees.
"My experiences in clinic and community settings moved me to do research," said Hays, who worked as licensed clinical social worker for several years. "I found that many clinicians receive limited training in how to work with African-American populations."
Hays said a major challenge was translating her ideas about how to help the community into actionable research.
"One of Krystal's strengths is her clinical experience," Lincoln said. "To translate that into research isn't easy because you're dealing with individuals with a lot of complex problems."
Hays' research focuses on African American mental health and explores ways to improve behavioral health outcomes by connecting people to community resources.
"We discussed how to engage with people that many African Americans have interactions with on a regular basis to support Krystal's idea of mental health promotion," Lincoln said. "We talked about using churches, pastors and congregants within churches because they felt more accessible than mental health providers."
Hays said people seek out many sources to address mental health issues, and she saw opportunities with black churches.
"In working with black churches, I would look to see whether there were opportunities to develop partnerships with local doctors," Hays said.
In working with churches, she came to a realization about the demographics of churches.
"African Americans involved in church tend to be older," Hays said. "It became obvious that church communities have an interest in aging issues. They know they're serving an older population. It made sense to incorporate issues related to aging in my research to respond to the needs of the population."
In her future research, Hays hopes to continue to find ways to collaborate with churches and religious organizations to develop interventions to improve the mental health of people in the community.