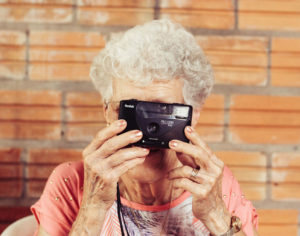 Alzheimer's disease is the sixth leading cause of death in the United States, and the only cause in the top ten that cannot be cured or reversed. Understanding the symptoms is key to early diagnosis, which can lead to a better quality of life for the patient and family as the disease progresses.
An estimated 5.5 million people are currently living with Alzheimer's disease in the United States alone. Given its intractable nature, Alzheimer's is difficult to identify with any certainty, especially when some of the symptoms can arise as part of the natural aging process or other conditions that mimic memory loss.
So, how do you tell if a loved one is suffering from Alzheimer's, and what can you do when faced with a diagnosis? Associate Professor María Aranda provides some insight.
Internal and External Factors
There is no single diagnostic test for Alzheimer's, nor is there a cure or any definitive certainty as to what age the neurocognitive disorder typically arises. Though Alzheimer's is correlated with old age and is more commonly diagnosed among people in their 60s, 70s or 80s, recent research indicates that, by the time the disease expresses itself, any pathological changes to a person's brain were already well underway.
Certain cerebral changes like plaque (masses or clumps of protein deposits) and tangles (microscopic build-ups of tau proteins) are often present in Alzheimer's patients. However, people without other symptoms of Alzheimer's may exhibit those same protein irregularities, so this should not be the sole factor on which a diagnosis is based. Dying brain cells and brain inflammation are also closely associated with an Alzheimer's diagnosis, but again, these symptoms are not conclusive on their own.
A common misperception is that Alzheimer's is strictly associated with genetics. In fact, most Alzheimer's cases lack a clear hereditary or genetic link. Smoking, obesity and vascular diseases such as strokes can be contributing factors. That said, strokes are generally associated with vascular dementia, which is a separate condition from Alzheimer's (but can occur in tandem). Generally speaking, poor health, limited access to preventative care and sustained, deleterious lifestyle practices can, but do not always, contribute to Alzheimer's.
Signs to Look For in a Loved One
Symptoms of Alzheimer's do not occur in isolation, so it's important to take a comprehensive view before confirming a diagnosis. Remember that any of the following, occurring alone, may simply be a natural consequence of aging. But if multiple symptoms are present, and they occur consistently and to such an extreme as to disrupt a person's life, they may signify an Alzheimer's disease diagnosis.
1. Memory Errors
One early symptom — and perhaps the most well-known — is short-term memory loss. Learning new information or skills may become difficult, as might remembering dates, events or the locations of items. Individuals suffering from this effect may be overly dependent on note-writing or reliant on loved ones to fill in the blanks.