By Iris Chi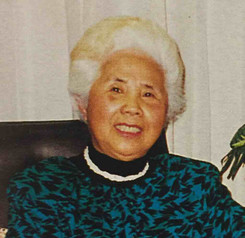 Frances Wu, the first Chinese American to receive a Doctor of Social Work from the University of Southern California, philanthropist, and founder of Chinese American Golden Age Association, died Aug. 11 in Monterey Park, California. She was 96.
Born in 1921 in Anhui, China, Wu was a 1948 graduate of Ginling College, where she earned a bachelor's degree in sociology and social work. Her master's degree in social work was from McGill University.
For 15 years she was a psychiatric social worker in New York, where she worked with children and as a field instructor for the Columbia University School of Social Work. During that time she became aware of the plight of Chinese immigrants, especially those who did not speak English or drive. Determined to make a positive difference in their lives, she decided to switch her focus from children to older adults. She moved to Los Angeles to study aging and administration and became the first Chinese American to receive a DSW from USC in 1974.
After graduating from USC, Wu dedicated herself to developing the resources needed to build a residential facility for older Chinese Americans. With the help of the USC Andrus Gerontology Center, which co-sponsored the project, she applied successfully for a Department of Housing and Urban Development grant to build Golden Age Village, which opened in 1980 in Monterey Park. The apartment complex for the low-income elderly population opened with 400 names on the waiting list.