By Vincent Lim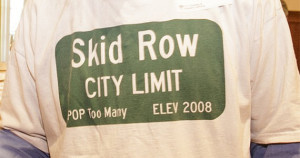 Nearly 44,000 people are homeless in Los Angeles County—about 30 percent of whom are chronically homeless. Chronically homeless individuals are likely to be older than the general homeless population and have remained homeless for long periods of time—sometimes years or even decades.
Typically, they have a disabling health condition such as mental health or substance abuse problems, making it difficult for them to maintain stable housing and employment. Most do not have a support network and rely on an already over-taxed social service system.
A new two-year project led by Ben Henwood, an assistant professor at the USC Suzanne Dworak-Peck School of Social Work and an affiliate faculty member with the USC Edward R. Roybal Institute on Aging, will explore ways to reduce the gap between the needs of L.A.'s chronically homeless and existing housing and support service options.
"Many of the chronic homeless have been disenfranchised and on the streets for some time," Henwood said. "When the homelessness crisis came about in the 1980s, they were in their 30s. Now, several decades later, the majority of them are 50 or older."