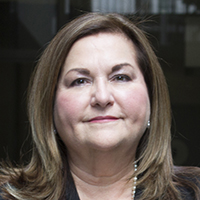 Roybal Executive Director María P. Aranda is the new director of the Outreach, Recruitment and Education (ORE) Core of the USC Alzheimer's Disease Research Center (ADRC).
Aranda is an associate professor at the USC Suzanne Dworak-Peck School of Social Work with a joint appointment with the USC Leonard Davis School of Gerontology. She developed the first Spanish-language support group for families affected by Alzheimer's disease. She is well-known among community leaders for establishing model support programs such as the El Portal Latino Alzheimer's Project, Programa Esperanza and Siempre Viva for individuals and families in East Los Angeles affected by depression and Alzheimer's disease. She is also psychotherapist with over 30 years of experience providing mental health services to middle-aged and older adults and their families.
USC ADRC is supported by the National Institutes of Health to conduct research on memory problems and aging. The ORE Core of USC ADRC shares information about Alzheimer's and cerebrovascular disease to potential research participants, research investigators and health care professionals.