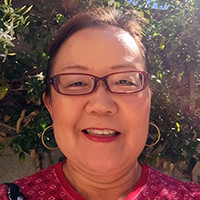 Aileen Hongo is a geriatric social worker who received her masters degrees in gerontology in 2007 and social work in 2013 from the University of Southern California. She is currently a life skills instructor for Five Keys Charter School/San Francisco Sheriff's Department and teaches at the Men's Central Jail and Twin Towers Correctional Facility in Los Angeles.
Her research interests include the plight of the escalating aging prison population in correctional facilities that are unsuitable to accommodate the natural decline of physical mobility and cognitive processes of older adults. She is also interested in correctional training to promote awareness for humane treatment of this underserved, frail population that is prone to predation and humiliation in a difficult environment.
She leads a group of social work and marriage and family therapy interns—a volunteer mobile creative therapy unit—to visit various California prisons and provide healthy aging and cognitive skills workshops for older incarcerated adults. They have also provided training for prison hospice caregivers—providing tools to enhance the awareness of the special needs of elderly, sick and dying inmate patients.
Recently, she has organized a group for formerly incarcerated caregivers and is working on a guidebook/model of caregiving for those with dementia behind bars and creating a continuum of care upon release for displaced aging prisoners.