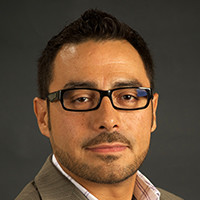 Dr. Guerrero joined the USC Suzanne Dworak-Peck School of Social Work faculty in 2009 as a post-doctoral fellow and was promoted a year later to assistant professor. His published research focuses on health care disparities, organizational implementation and system integration. Particularly, he focuses on the implementation of culturally responsive and evidence-informed health care practices to promote health care equities. His federally funded research examines the role of the public health insurance expansion in addiction health service organizations' capacity to enhance service delivery and improve treatment outcomes among Latinos and African Americans. Dr. Guerrero's county-funded grants allow him to also explore current issues in the health care sector, including workforce development, implementation of data-driven decision making systems, and integration of primary care and behavioral health care in California.
Dr. Guerrero has taught courses on organizations, management and policy implementation. He currently teaches an applied course on management and finance for human service managers and a doctoral course on organizational and management theories. Dr. Guerrero has consulted for national and international nonprofit organizations on diversity and strategic management. A licensed clinical therapist, he has provided bilingual-bicultural (Spanish language) clinical and management services at different psychiatric and addiction health settings for the past 13 years.
Dr. Guerrero has completed pre- and post-doctoral fellowships sponsored by the National Institute on Drug Abuse. He has also received numerous emerging scholar awards from other health and organizational research institutions, such as the National Institute on Alcohol Abuse and Alcoholism, the Association on Research on Non-Profit Organizations and Volunteering Action (ARNOVA), and the Association for Community Organization & Social Administration. He is currently a member of ARNOVA, the Society for Social Work and Research, the Academy of Management, and the National Hispanic Science Network on Drug Abuse.