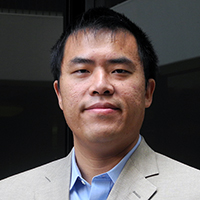 Haomiao Jin is a research scientist of social work in the Department of Adult Mental Health and Wellness at the USC Suzanne Dworak-Peck School of Social Work and a former postdoctoral research associate at the USC Edward R. Roybal Institute on Aging. He joined the school in the fall 2016 upon his PhD graduation from the USC Daniel J. Epstein Department of Industrial and Systems Engineering. His areas of research are in the fields of health data analytics and health information technology with applications in promoting social health and well-being for disadvantaged populations. Since fall 2017, Dr. Jin is also a member of the Statistics (Database and Analysis) Core Team of the Hamovitch Research Center.
His research in health data analytics has involved a series of three studies that develop and apply depression prediction models to improve health services and medical decision-making for low-income, predominantly older minority patients in primary care. The studies explored advanced machine learning techniques and developed new prediction models to improve case identification for patients at high risk of depression. These studies generated evidence of the predictive accuracy, costs and benefits from using the prediction models to facilitate personalized, patient-centered and precision depression care services that distinguish patients with high vs. low risks of depression. A proposal for this series of studies was picked as the winner from among 32 competitors in Pathways to Clinical Forecasting Pilot Grant Competition organized by UCLA. A manuscript of this work has led him to be awarded with Honorable Mention in the 2015 Student Paper Competition (among 59 submissions) along with a publication in the Preventing Chronic Disease journal, an official journal of the U.S. Centers for Disease Control and Prevention (CDC).
Besides the above studies, Dr. Jin contributed his data analytics skills to a variety of health-related research projects in social work. He participated in a DHHS-funded R18 project to conduct statistical analysis for the outcomes and cost-effectiveness of a telehealth intervention. One paper involved a propensity score analysis was recently published in the Journal of Medical Internet Research, which has an impact factor of 5.175 and was ranked #1 in Medical Informatics and #4 in the large Health Sciences + Health Services Research category. In addition, he conducted the statistical analysis for a report that projects the economic burden of Alzheimer's disease among Latinos. The report was disseminated through 400+ media outlets and was cited in the announcement of the Bill Gates Foundation's 2017 $100 million investment in Alzheimer's Disease. Since July 2017, he joined in the Statistical Core Team of the Hamovitch Center and is now providing data analysis support and service for faculty members and doctoral students across the school.
Dr. Jin's research in health information technology involves a pilot project that tested using text message to assess depression, anxiety, functional disability, and pain symptoms in low-income, majorly older Hispanic patients with chronic diseases. The study addressed use barriers of a population that are commonly thought to be technology "aversion." The study achieved a similar response rate compared with other studies using technology assessment approach for similar populations. The validity of this text message approach was evaluated. Recently, he participated in another pilot project including both qualitative and ecological momentary assessment delivered through text messages to understand challenges and information needs of caregivers for Alzheimer's disease patients.
Dr. Jin's future research will center around developing and applying advanced data collection and analytics methods to promote the social health and well-being for disadvantaged populations. This includes applied research in novel statistical methods to model and understand big and complex data set as well as developing and testing new information technology approach to collect data and deliver intervention.