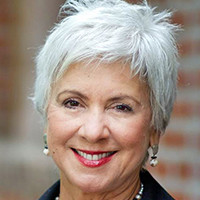 Associate Vice Provost for Community Research Initiatives
Dean's Professor of Social Work and Preventive Medicine
Faculty Associate
As Associate Vice Provost for Community Research Initiatives, Dr. Hortensia Amaro develops and advances outreach programs operating between the Office of the Provost and University Relations. This includes promoting scholarly research and student learning in the fields of preventative medicine and social work, cultivating health and wellness service partnerships, analyzing collaborative research models and place-based interventions, and strengthening relationships among faculty who are engaged in community research.
Amaro is a Dean's Professor, Social Work and Preventative Medicine in the USC Suzanne Dworak-Peck School of Social Work. She has dramatically advanced the understanding of substance abuse disorder treatment, HIV prevention and other urgent public health challenges through a distinguished career that has spanned scholarly research, translation of science to practice, top-level policy consultation, and service on four Institute of Medicine committees. Before joining USC in 2012, Amaro was with Northeastern University for 10 years, serving as dean, as well as distinguished professor of health sciences and counseling psychology, of the Bouvé College of Health Sciences, and as director of the university's Institute on Urban Health Research.
Over the last 30 years, Amaro has forged vital connections between public health research and practice. Her studies have focused on alcohol and drug use and addiction among adolescents and adults; the development and testing of behavioral interventions for HIV/AIDS prevention, including innovative HIV prevention models targeted to Latina and African American women; substance abuse and mental health treatment for Latina and African American women and incarcerated men; alcohol and drug use among college populations; and behavioral interventions for HIV medications adherence. After joining Northeastern University in 2001, Amaro established the Institute on Urban Health Research, which promotes interdisciplinary and community-based research that examines the causes of racial and ethnic health disparities in health, and develops and tests strategies that improve health in urban communities.
She has previously served as professor in the Boston University School of Public Health and in the Department of Pediatrics at the Boston University School of Medicine. She received her doctorate in psychology from the University of California, Los Angeles, in 1982 and was awarded honorary doctoral degrees in humane letters by Simmons College in 1994 and the Massachusetts School of Professional Psychology in 2012. She has also served as a distinguished visiting professor in women's health at Ben Gurion University in Israel.