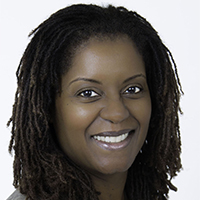 Associate Professor of Social Work
Senior Scientist
An associate professor in the USC Suzanne Dworak-Peck School of Social Work and Director of the USC Hartford Center of Excellence in Geriatric Social Work, Karen D. Lincoln's scholarship grapples with issues that are locally, nationally, and internationally meaningful. She is known for her creative application of pioneering statistical models to the examination of social and contextual determinants of mental health outcomes among African American and Caribbean descent populations. The primary objective of Dr. Lincoln's research agenda is to expand theoretical, methodological and empirical knowledge on Black American mental health and well-being, and to inform and design interventions spanning multiple ecological levels—individual, community, societal—to restore and promote the health and well-being of Black Americans across the life course.
Dr. Lincoln has distinguished herself as a scholar whose research and publications have expanded our understanding both methodologically and conceptually of mental health and well-being among Black Americans. Dr. Lincoln's work has been widely disseminated in the form of dozens of presentations at national and international conferences and over 30 publications in more than 20 peer-review journals, including Social Science and Medicine, the Journal of Health and Social Behavior, Social Psychiatry and Psychiatric Epidemiology, the Journals of Gerontology, the International Journal of Geriatric Psychiatry, the Journal of Marriage and Family, Family Relations, Social Work, Social Service Review, Biodemography and Social Biology, and DuBois Review.
Dr. Lincoln's research is supported by a number of different agencies within the National Institutes of Health, including the National Institute on Aging, the National Institute of Child Health and Human Development, and the National Institute of Mental Health. Her research has also been funded by The John A. Hartford Foundation/The Gerontological Society of America.