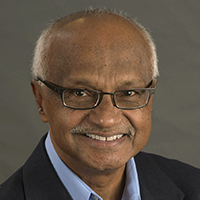 Emeritus Clinical Professor of Social Work
Faculty Associate
Murali Nair is a clinical professor at the USC Suzanne Dworak-Peck School of Social Work. His field studies on cross cultural and cross national understanding of centenarians/super centenarians and healthy aging resulted in several publications and mini documentaries. In the past, he has taught graduate level courses on centenarians and healthy aging. Dr. Nair joined the USC Suzanne Dworak-Peck School of Social Work in 2012 after 20 years teaching at Cleveland State University, including stints as a professor, co-director of the Center for Healing Across Cultures and director of its School of Social Work. He has written, edited or co-authored 13 books, including the 4th edition of Effectively Leading and Managing Human Service Organizations (2014), Evidence Based Macro Practice in Social Work (2014) and Engaged Learning: Preparing for Professional Practice (2013). His cross-national field studies have resulted in the production of nine mini documentaries, including Secrets of Long Life of centenarians in China, Hawaii, India and one on super centenarians in the Spice Mountains.
Dr. Nair is an active member of the USC Institute for Integrative Health, Los Angeles Gerontology Research Group, American Society on Aging, Euro symposium on Healthy Ageing, International Consortium of Centenarian Studies, and International Committee on Super Centenarians. His honors include being a hall of fame inductee at the Columbia University School of Social Work, a senior Fulbright scholar and a recipient of the President's Volunteer Action Award from the White House.