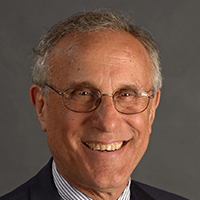 Adjunct Lecturer
Faculty Associate
Peter Braun has a broad and extensive career in the aging field and public health. He served as executive director of the American Diabetes Association in Los Angeles (2009-2013), creating a national model for best practices, capacity building, and system expansion for diabetes clinical centers, funded by the Los Angeles County Department of Public Health and CDC.
He served as president and CEO of the Alzheimer's Association, California Southland Chapter (1988-2008), developing a national model for delivery of service for people with dementia and caregivers in the Latino, African American, and Asian Pacific Islander communities. Responsible for agency growth, he oversaw agency expansion, from a budget of $252,000 in 1988 to $5.7 million in 2008, serving 160,000 people in a three County area.
Braun has served a variety of leadership positions including membership on the Secretary of Health and Welfare Agency's Alzheimer's Advisory Committee in Sacramento (1999-2009), delegate to the White House Conference on Aging (1995), co-founder and chair of the Los Angeles Leadership Council of Aging Organizations (1997-2000), among others. He has lectured extensively nationally and internationally regarding Alzheimer's disease and cross cultural issues.
Currently, he is an adjunct lecturer at the USC Suzanne Dworak-Peck School of Social Work and was a consultant to the USC Roybal Institute.
He has an MSW from the Wurzweiler School of Social Work in New York City and is married, living in Pasadena, California, and has two children.