By Jason Resendez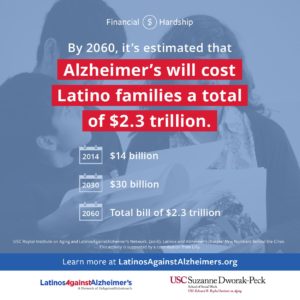 Unless a medical breakthrough is discovered that prevents, cures or slows the progression of Alzheimer's disease, the incidence and cost of Alzheimer's on U.S. Latinos will grow exponentially by 2060, according to a report released today by the USC Edward R. Roybal Institute on Aging at the USC Suzanne Dworak-Peck School of Social Work and LatinosAgainstAlzheimer's, a network of UsAgainstAlzheimer's.
According to the report, Latinos & Alzheimer's Disease: New Numbers Behind the Crisis, U.S. Latinos living with Alzheimer's disease are projected to increase from 379,000 in 2012 to 1.1 million by 2030 and to 3.5 million by 2060—a growth of 832 percent. In addition, the report released unprecedented findings on the cumulative direct and indirect costs of Alzheimer's disease on the U.S. Latino community, including millions of family caregivers, which would ultimately cost the U.S. economy $373 billion by 2030 and $2.35 trillion (in 2012 dollars) by 2060.
"This timely report provides strong evidence of the rapidly escalating burden of Alzheimer's disease on the U.S. Latino population," said William Vega, co-author of the report and executive director of the USC Roybal Institute on Aging. "It is not only the growth of the prevalence that is concerning. It is also the very high metabolic syndrome and diabetes rates that are fueling the increase in Alzheimer's to levels well beyond expected rates in the U.S. population."
The report's data sparks renewed urgency to address health care disparities affecting minorities, particularly U.S. Latinos. Because of advanced age and socioeconomic determinants, U.S. Latinos are 50 percent more likely to get Alzheimer's than non-Latino whites, yet are less likely to receive a diagnosis from a physician. Despite an increased prevalence for Alzheimer's and other diseases, clinical trial participation among U.S. Latinos is extremely low at approximately one percent, punctuating the need for increased efforts to engage U.S. Latinos in clinical research.