By Vincent Lim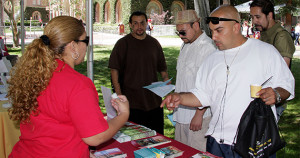 To mark Men's Health Month, the USC Edward R. Roybal Institute on Aging at the USC School of Social Work hosted Men's Health Awareness Day on June 22.
More than 500 people attended the event on the University Park Campus, which brought together more than 35 health organizations and community service groups, including health care professionals from the USC School of Pharmacy, the Ostrow School of Dentistry of USC and the Keck School of Medicine of USC, to offer free health screenings and information on a variety of issues relevant to men. Some of the other prominent exhibitors included the American Diabetes Association, the Alzheimer's Association and the American Heart Association.
"The fair is really an opportunity for men and their families—their partners, their children and their neighbors—to have a good time, but at the same time, be able to receive health-related information and screenings," said Maria Aranda, an associate professor at the School of Social Work and the USC Roybal Institute who helped develop the idea for the event.