By Cindy Monticue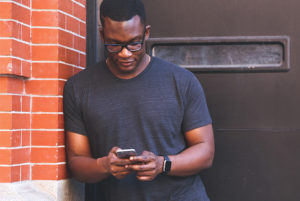 Alzheimer's disease in African Americans is approaching a public health crisis. Evidence suggests African Americans are at greater risk for developing Alzheimer's dementia than any other group in the United States. Research in this community lags, however, and recruiting African Americans for clinical trials remains a struggle. USC researchers hope a new texting campaign will change some minds.
"African Americans still have a profound mistrust of medical research, so most of what we know about diseases like Alzheimer's is based on studies of whites. Less than 5 percent of participants in clinical trials are African Americans," said Karen Lincoln, an associate professor at the USC Suzanne Dworak-Peck School of Social Work and principal investigator of the study. "Our progress in understanding Alzheimer's in African Americans has been limited. Knowledge of disease symptoms and recommendations for treatment are biased, and that perpetuates health disparities, setting us further behind in our fight."
Improving recruitment communications and strategies among African Americans is critical in accelerating the research to understand Alzheimer's in African Americans and to develop effective ways to treat and prevent the disease.
One way Lincoln hopes to have an impact is through mobile technology. She has secured a pilot grant co-funded by the Southern California Clinical Translational Science Institute and the Alzheimer's Disease Research Center at USC to test the effectiveness of different health education approaches on Alzheimer's knowledge and research attitudes—starting with her smart phone. The research team plans to send daily text messages about brain health and clinical research to African Americans in the first study of its kind to use texting to raise awareness about Alzheimer's and clinical trials.