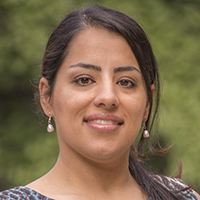 Dr. Ferdows is a health economist with multidisciplinary training in gerontology and health services research. With a background in mathematics and economics, she possess a wide range of analytical skills that encompass economics theories and quasi-experimental methods to answer policy-relevant questions in healthcare systems as well as conducting population-based studies. Her research resides at the intersection of economics, gerontology and health services research, the intersection of methodology and policy. In her previous work, Dr. Ferdows studied several aspects of the health of the older population:
Life-course determinants of health at older age
Rural and urban disparities in access to care and mortality in the older US population
The effects of coordinated care programs (e.g. Accountable Care Organizations – ACOs) and state-level healthcare policies (e.g. Certificate of Need programs – CON, and nurse practitioner prescriptive authority) on health disparities and quality of post-acute care services.
She is currently expanding these areas of research to studying dementia and cognition in the older population in order to investigate racial and geographical disparities in prevalence of dementia and cognitive impairment.