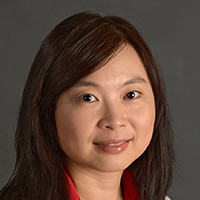 Research Associate Professor
Dr. Hsiao joined the USC Suzanne Dworak-Peck School of Social Work as a visiting clinical assistant professor in 2013 after she earned a PhD in social work in the same year. Her research interests include productive aging and mental health, caregiving needs of people with dementia, physician-patient communication among women with breast cancer, work-life balance, diversity and inclusion, mixed methods, and longitudinal studies.
Since 2007, Dr. Hsiao has been involved in various interdisciplinary and cross-national research projects, collaborating with institutions in nonprofit and for-profit sectors, such as the Lombardi Comprehensive Cancer Center at Georgetown University, USC Marshall School of Business, an American multinational corporation in the footwear sector, Department of Children and Family Services in Los Angeles, National Taiwan University, Ministry of Health and Welfare in Taiwan, and Peking University Sixth Hospital.
She has published articles in peer-reviewed journals in Aging and Mental Health, Journal of Social Service Review, International Journal of Social Welfare, and Family & Community Health, and teaches courses in social work research and human behavior and the social environment.