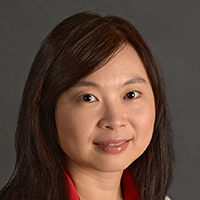 Research Associate Professor
Faculty Associate
Hsinyi Hsiao is a research associate professor of the USC Suzanne Dworak-Peck School of Social Work. She has pursued an intensive agenda of cross-cultural research in health, behavioral health, work–life balance, and social work and environmental sustainability among vulnerable populations. Dr. Hsiao's research is generating empirical knowledge on how cultural factors and class reinforce disparities in health and behavioral health care and providing new insights regarding the applicability of theories developed in Western societies to different cultural populations. Her scholarly contributions have focused on achieving four goals: (a) highlighting the importance of understanding health and behavioral health disparities in patient care among Chinese American immigrants and older rural Chinese adults from a cross-cultural perspective; (b) developing and implementing interventions using mobile technology for health promotion among individuals with chronic disease; (c) validating work–life theoretical models drawing on Western knowledge across different cultural populations and by gender in the global context; and (d) evaluating the effectiveness of innovative community-based sustainable practices as social solutions to environmental challenges.
With expertise in academic–community–industry partnerships, Dr. Hsiao (as PI or co-principal investigator) has received external funding more than $1 million (for research and curriculum development) from private and public sectors in Taiwan and China (e.g., banking industry, information technology industry, universities) since 2014. The impact of her scholarly work has been demonstrated through publications in interdisciplinary journals; presentations at top national conferences including a symposium at the Society for Social Work and Research (SSWR) Gerontological Society of America (GSA); and media coverage such as DaAi TV, a national channel in Taiwan. In June 2016, Dr. Hsiao received an award from Work and Family Researchers Network for being an early career work and family fellow who advances research, teaching, and long-term career prospects.
To extend the school's global impact on the Asian region, as a co-principal investigator Dr. Hsiao has helped lead and manage various China initiatives using our innovative MSW curriculum as a model for China's social work professionalization, including development, management, and implementation of a cross-national training model of a culturally adapted curriculum between the USC Suzanne Dworak-Peck School of Social Work and the School of Social Development and Public Policy at Beijing Normal University (BNU) since 2014. Her research expertise in cross-cultural studies helped me expand our school's presence in China by fostering deep and committed cooperation with China's academia and industry via translational research that involves cultural exchange and integrated building of faculty capacity.