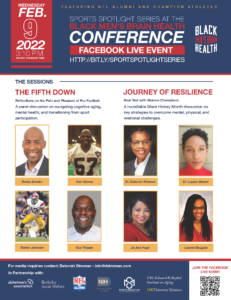 Part 1 @ 3:10 to 4:35 pm features NFL Alumni players talking about navigating cognitive aging, mental health, and transitioning from sport participation.
Part 2 @ 4:45 to 6:00 pm is a round table with women athletes and advocates key strategies to overcome mental, physical, and relational challenges.
The event, sponsored by the National Institute of Aging, Alzheimer's Association, USC Edward R. Roybal Institute on Aging, Cal-Berkeley Social Welfare, NFL Alumni Association, and USC Community Relations.