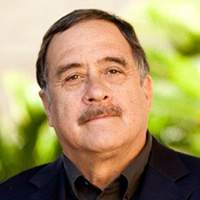 Cleofas and Victor Ramirez Professor of Practice, Policy, Research and Advocacy for the Latino Population
Faculty Associate
Avelardo Valdez is currently the Cleofas and Victor Ramirez Professor of Practice, Policy, Research and Advocacy for the Latino Population at the USC Suzanne Dworak-Peck School of Social Work. He was previously a professor at the Graduate College of Social Work at the University of Houston and director of the Center for Drug & Social Policy Research. He obtained his Ph.D. in Sociology at the University of California, Los Angeles.
A primary focus of his research has been on the relationship between substance abuse and violence and health issues among high-risk groups. His research projects have been among "hidden populations" such as youth and prison gang members, heroin users, sex workers, aging drug users, and crack users. He is a nationally and internationally recognized scholar with an extensive publication record in his field of research. His most recent book is titled Mexican American Girls and Gang Violence: Beyond Risk.
He is a recipient of federal grants from the National Institutes of Health (NIH), National Institute on Drug Abuse (NIDA), Centers for Disease Control and Prevention (CDC), and Substance Abuse and Mental Health Services Administration (SAMHSA). Two of his NIH funded grants focus on examining the long-term consequences of adolescent gang membership among Mexican Americans. Dr. Valdez is also a recipient and director of the NIDA Interdisciplinary Research Training Institute on Hispanic Drug Abuse.
Dr. Valdez received the Award for Excellence in Mentorship from the National Hispanic Science Network on Drug Abuse (NHSN). He is the recipient of numerous other awards including the Senior Scholar Award for the Society for the Study of Social Problems, National Award of Excellence Senior Research Scientist, National Hispanic Science Network, and Outstanding Senior Scholar for the American Sociological Association. He has served as a member of the Committee for National Academy of Sciences Study of High Rates of Incarceration in the United States (2013-2014) and recently served on Lieutenant Governor Gavin Newsom's Blue Ribbon Commission on Marijuana Law and Policy in California (2015) and recently was appointed to the Advisory Cannabis Working Group by the Los Angeles County Office of Cannabis Management.