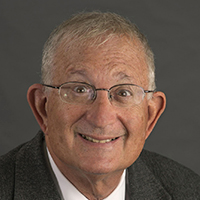 Emeritus Research Professor
A medical sociologist by training, Charles Kaplan has sought a balance between social work, sociology and social epidemiology during the course of his prolific research career exploring the patterns of drug use, drug treatment strategies and social policy. His path to the USC Suzanne Dworak-Peck School of Social Work can only be described as multidisciplinary and can be traced back to his undergraduate days as a political science major at Tulane University. Dr. Kaplan found he was less interested in diplomacy or international relations and more attracted to sociology, particularly after taking a seminar on the subject during his senior year. Drawn to the social upheaval occurring in 1960s California, he headed to UCLA to earn a master's degree and doctorate in sociology.
During his time at UCLA, he received training in biomedical research through the National Institute of General Medical Science and began examining the connection between brain function and language, one of the first efforts to link neuroscience and sociology. His experiences in the lab sparked an interest in drug abuse and addiction, then a nascent field in terms of research. After a few years as an assistant professor at Rutgers University, Dr. Kaplan accepted an invitation to participate in an exchange program with Frankfurt University.
Europe was just beginning to experience the effects of the heroin epidemic when Dr. Kaplan arrived. Due to his previous sociological experience and interest in drug addiction, he quickly gained traction studying the patterns and spread of illicit substance use. Dr. Kaplan later joined the Department of Social Psychiatry of Erasmus University in Rotterdam and established the Addiction Research Institute before taking a position as research professor at Maastricht University, where he led the Drug Abuse Research Division of the International Institute for Psychosocial and Socioecological Research. In addition to exploring the spread of heroin throughout Germany, he became interested in differing treatment standards and drug policies among European countries, eventually exploring various community approaches and residential treatment care methods in 13 nations—then the largest funded research project in Europe on drug addiction.
Despite spending much of his academic career in Europe, Dr. Kaplan began to feel a pull back to the United States. The U.S. government had expressed growing interest in supporting research on drug use and minority populations, and Dr. Kaplan also met Avelardo Valdez, then a professor at University of Texas at San Antonio, during a conference in Europe. He began spending summers in Texas, and eventually retired from his European position and transitioned to the University of Houston with Valdez. Appointed associate dean of research, Dr. Kaplan began to build up the university's research profile while continuing to explore the social epidemiology of drug use and its health and social consequences among minorities and special populations, such as evacuees from Hurricane Katrina and gang members.
In 2011, he joined the USC Suzanne Dworak-Peck School of Social Work—along with Dr. Valdez and another member of the Houston research team, Alice Cepeda—and took on a joint role as research professor and associate dean of research. In addition to his administrative responsibilities, Dr. Kaplan is keen to continue exploring the preclinical patterns of drug use with his research team, including the emergence of crack cocaine in Mexico City and the impact of the drug wars on Latino communities. He plans to involve students in his field-intensive research and further integrate the PhD program into research activities, in addition to developing a research cluster on drug and social policy with Dr. Valdez, Dr. Cepeda and other researchers.