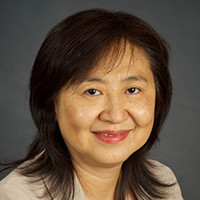 Chinese-American Golden Age Association/Frances Wu Chair for the Chinese Elderly
Dr. Chi was installed as the Chinese-American Golden Age Association/Frances Wu Chair for the Chinese Elderly in 2004 and currently directs the China Program at the USC Edward R. Roybal Institute on Aging. Prior to joining the USC Suzanne Dworak-Peck School of Social Work, she taught at the University of Hong Kong for 17 years, in addition to chairing the Department of Social Work and its postgraduate research programs and serving as the director of the Sau Po Center on Aging.
An expert in elderly health and gerontology, Dr. Chi has participated in more than 90 studies and published more than 250 articles. She is an honorary professor, fellow, consultant and adviser to more than 30 local and overseas social work and elderly-related organizations including The Gerontological Society of America, the Australian Association of Gerontology, interRAI, the University of Hong Kong, Peking University, and the University of Victoria in British Columbia, Canada. She is also an associate editor for International Journal of Social Welfare, and an expert reviewer and editorial board member for several social work and gerontology journals. In addition, Dr. Chi has served on the Commission on Curriculum and Educational Innovation for the Council on Social Work Education, the board of the International Association of the Schools of Social Work, the National Program Advisory Committee for the Hartford Doctoral Fellows, and was appointed to the expert panel for the World Health Organization's Kobe Collaboration Centre. Most recently, she was nominated to be a member of the Phi Tau Phi Scholastic Honor Society of America.