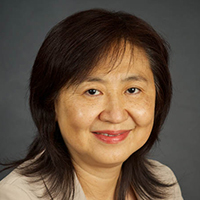 Chinese-American Golden Age Association/Dr. Frances Wu Chair for Chinese Elderly
Professor of Social Work
Senior Scientist
Iris Chi is the Chinese-American Golden Age Association/Frances Wu Chair for the Chinese Elderly at the USC Suzanne Dworak-Peck School of Social Work and a senior scientist at the USC Edward R. Roybal Institute on Aging. Prior to joining USC, she taught at the University of Hong Kong (HKU) and was the founding director of Sau Po Centre on Aging at HKU. An expert in health and gerontology, Dr. Chi has participated in more than 100 studies and published over 300 articles and book chapters. She has been elected as a fellow of the Gerontological Society of America, the American Academy of Social Welfare and Social Work, interRAI, the Phi Tau Phi Scholastic Honor Society of America, and IAGG (Asian & Oceania region). Dr. Chi is an honorary professor, consultant and senior adviser to more than 30 local and overseas universities and research institutes. She is also the associate editor and an editorial board member for many gerontology and social work journals.