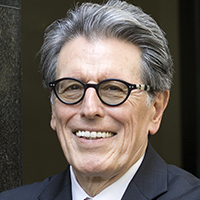 Emeritus Provost Professor
William Vega was formerly executive director of the USC Roybal Institute and a Provost Professor at the University of Southern California (USC) with appointments in social work, preventive medicine, psychiatry, family medicine, psychology and gerontology. He also held the Cleofas and Victor Ramirez Professor of Practice, Policy, Research and Advocacy for the Latino Population at the USC Suzanne Dworak-Peck School of Social Work.
An elected member of the National Academy of Medicine (formerly the Institute of Medicine), Dr. Vega has conducted community and clinical research projects on health, mental health and substance abuse in diverse regions of the United States and Latin America. His specialty is multi-cultural epidemiologic and services research with adolescents and adults, supported by multiple public and private agencies and foundations. He has published more than 190 articles and chapters, in addition to several books. Dr. Vega is currently ranked by Research Gate in the top 2 percent of authors in overall research impact, and ISI Web of Science in 2006 listed him in the top half of one percent of the most highly cited researchers worldwide in social science research over the previous 20 years.
Prior to joining the USC Roybal Institute as its executive director, Dr. Vega was director of the Luskin Center for Innovation and an associate provost at UCLA. He received the Society for Prevention Research's Community, Culture and Prevention Science Award in 2002 and the National Hispanic Science Network on Drug Abuse's National Award of Excellence in Research by a Senior Scientist in 2004. In 2013, he was honored with the Rema Lapouse Award from the Mental Health, Epidemiology, and Statistics Sections of the American Public Health Association.
Dr. Vega has served on numerous boards and task forces, including health disparities work groups of the National Institutes of Health (NIH), the U.S. Attorney General's Task Force on Methamphetamine, the Institute of Medicine Board on Population Health, the Committee on Post-Traumatic Stress Disorder Treatment Effectiveness, and chaired the Institute of Medicine Health Equity and Disparities Roundtable. He is also a former council member of the NIH Fogarty International Center, served on multiple research review panels of the NIH, was a member of the Robert Wood Johnson Foundation Scholars in Health Policy Research Advisory Committee, and chaired the New Connections program for the Robert Wood Johnson Foundation in 2009.